Meet Our Dentists
Dr. Jorge Moreno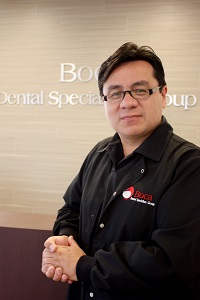 Dr. Moreno
is a
Certified Endodontist
and has been practicing in London since 2001 when he joined the University of Western Ontario. He acted as the chair of the Endodontics division at the Schulich School of Dentistry until 2009.
In 2010 Dr. Moreno opened his Endodontic practice where he offers all aspects of Endodontic Treatments.
Dr. Moreno has been actively involved in seminars and hands on courses both in Canada and abroad. His area of interest is the Endodontic Pain Management and all aspects of Clinical Endodontics.
Dr. Moreno is active in dental organizations both locally and internationally.
Dr. L. Marcela Ibarra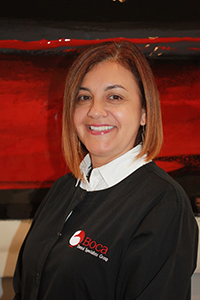 Dr. Marcela Ibarra, a Certified Prosthodontist and multiple award-winning professor at Schulich School of Medicine and Dentistry, Western University combines an impressive record of scholar achievements with clinical and teaching skills. A full time professor and current director of the fixed prosthodontics division, Dr. Ibarra manages to meet and exceed the restorative demands of students and private patients alike. And still has time to run a busy family!
Dr. Matthew D. Morrison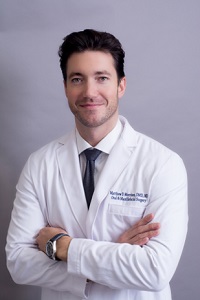 Dr. Morrison completed an undergraduate degree and Master of Science degree at Queen's University before proceeding to the prestigious McGill University for his Doctor of Dental Medicine (DMD) degree. After dental school, he was one-of-six selected to complete a one-year Hospital-based Dental Residency program at Mount Sinai Hospital/University of Toronto. He was then chosen as the one resident annually accepted into the illustrious Oral and Maxillofacial Surgery (OMS) program at London Health Sciences Centre/University of Western Ontario. During his six-years of surgical residency, Dr. Morrison concurrently obtained a Doctor of Medicine (MD) degree and another Master of Science degree. Throughout his training, Dr. Morrison was bestowed with numerous scholarships, research grants and awards based on his academic achievements and research efforts. He is now in private practice as a board-certified Oral and Maxillofacial Surgeon and works part-time as an Adjunct Clinical Professor at the University of Western Ontario.
Dr. Morrison's areas of expertise include dental implant surgery, wisdom tooth extractions, dentoalveolar bone grafting, maxillary sinus augmentation, soft tissue grafting around dental implants, management of oral and maxillofacial pathology, and the provision of deep sedation/general anesthesia.
When not working, Dr. Morrison enjoys playing a variety of sports, walking his dog, Leo, and spending time with his beautiful partner, Natasha.
Dr. Georgia Nikoloudaki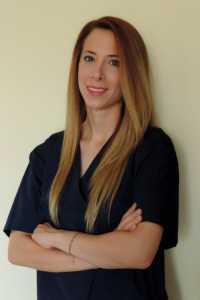 Dr. Georgia Nikoloudaki obtained her Doctor of Dental Surgery and Master's Degrees in Dentistry with a specialization in Endodontics from the National and Kapodistrian University of Athens in Greece. She then pursued her PhD in Anatomy and Cell Biology at Schulich Medicine & Dentistry at Western University where her research focused on wound healing mechanisms in the mouth. Her research was supported by the Dean's Graduate Research Scholarship.
She is now a board-certified Endodontist in Canada and she is a full-time professor in the division of Endodontics at Western University.
Dr. Nikoloudaki has been heavily involved in teaching dental students at Schulich Dentistry since 2015. She strives to contribute to high-quality research in the field of dentistry and to continue building on the current didactic and clinical Endodontics for future dentists. As a clinician-scientist, Dr. Nikoloudaki aims to not only share knowledge with her students, but also generate new knowledge to provide the highest quality of care for her patients and the advancement of the field of Endodontics.
She has numerous scientific publications in peer reviewed journals and is supervising dental students in research projects. She is a member of many national and international scientific and clinical associations, including the American Association of Endodontics, Canadian Academy of Endodontics, Ontario Society of Endodontics, Ontario Dental Association, Canadian Dental Association, International Association for Dental Research, and more.
Dr. Jorge Moreno
Root Canal Specialist in London
Endodontist in London
Dr. Marcela Ibarra
Certified Prosthodontist in London
Restorative dentistry in London
Crowns & Bridges in London
Dr. Matthew Morrison
Oral and Maxillofacial Surgery
Dental implant surgery
Tooth extractions
Bone grafting and sinus lifts
Management of pathology and infection
Dental Implants and Soft Tissue (connective tissue and free gingival) Grafting
Dr. Georgia Nikoloudaki
Root Canal Specialist in London
Endodontist in London
Address
250 Commissioners Rd.
West. London, ON N6J 1Y3
Boca Dental is located in London, Ontario, and we are pleased to have patients referred to us from many different communities including Clinton , Dutton, Goderich, Ingersoll, Mt. Brydges, Strathroy, Tilsonburg, Woodstock and surrounding areas.