Welcome to Boca Dental!
We Are Here To Serve!
---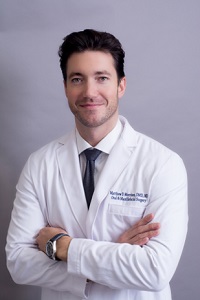 We are excited to announced that
Dr. Matthew D. Morrison
Has joined our team at
Boca Dental Specialist Group
After completing his surgical residency at London Health Sciences Centre (LHSC), Dr. Morrison is pleased to be staying in London to practice Oral and Maxillofacial Surgery.
Matthew obtained his Doctor of Dental Medicine (DMD) degree from McGill University in 2012, and then completed a one-year General Practice Residency (GPR) program at Mount Sinai Hospital in Toronto, Ontario. Matthew then entered the Oral and Maxillofacial Surgery residency program at LHSC, where he received both his Doctor of Medicine (MD) and Master of Science (MSc) degrees from the University of Western Ontario (UWO).
During his surgical residency, Matthew became well-versed in dental implant surgery, tooth extractions, bone grafting, sinus lifts, corrective jaw surgery, and the management of pathology and infection. Matthew also completed extensive training in anesthesia and airway management in order to provide deep sedation for patients.
In his spare time, Matthew enjoys playing ice hockey, snowboarding, running, and golfing.
Dr. Morrison welcomes your patients in our fully accredited facility for surgical procedures under local anesthetic or deep sedation.
As always, the Boca Dental Specialists look forward for being part of your patients' care. We can be reached by phone at (519) 850-1400 or online at www.bocadental.ca
---
In spite of the Modern Dental offices evolving and revolving demands, our Mandate remains the same: To serve the dental community!
A true reflection of our practice is represented by the dedication and the gentleness of our staff along with the commitment of our Canadian certified specialists who combine in excess of 25 years of experience not only in clinical practice but university teaching as well.
Boca Dental Specialist Group: A Patient-Centered referral-based practice takes pride of the trust and confidence that our patients, colleagues and students kindly grant us with.
Root canal specialist and restorative dentistry in London
The team at Boca Dental would like to welcome you to our office where we are pleased to provide a warm and relaxing environment while you are in the care of our Dental Specialists.
Boca Dental is located at 250 Commissioners Rd. West London ON N6J 1Y3 (one block east of Andover Dr. at the corner of Commissioners Rd. West and Knight's Hill Rd.).
Our state-of-the-art facility provides ample space and offers a great location with plenty of private parking.
Our contact information is:
* phone: 519 850-1400 * fax: 519 850-1405 * e-mail: [email protected]
Please feel free to contact us for more information
Dr. Jorge Moreno
Root Canal Specialist in London
Endodontist in London
Dr. Marcela Ibarra
Certified Prosthodontist in London
Restorative dentistry in London
Crowns & Bridges in London
Address
250 Commissioners Rd.
West. London, ON N6J 1Y3
Boca Dental is located in London, Ontario, and we are pleased to have patients referred to us from many different communities including Clinton , Dutton, Goderich, Ingersoll, Mt. Brydges, Strathroy, Tilsonburg, Woodstock and surrounding areas.